Once upon a time, it was cool to wear large afros and day-glo bell-bottoms. Not so chic today... Today fashion translates to 'whatever makes you happy'. Beribboned, beruffled, and bejeweled accessories for all!
All of a sudden, I see opposing subcultures trading beauty secrets like teen girls at a sleepover.
And
, they've gotten creating stellar statement pieces down to a science. Of all that I've seen so far, my favorite is the cuff. A cuff is a solid band formed into a bracelet. Typically it's one or more inches wide and decorated with stamped designs, wood, filigree, or inlays. It's versatile and timeless.
A Cuff by Beth Church.
Every lady I've ever seen as 'classy' has at least 2 cuffs. Since the cuff movement made a resurgence, younger women sport the thick bracelets in a variety of styles and materials. I decided 'I gotta get me some o' that!' For creative purposes only. I swear. Stop looking at me with that accusing expression!
I looked in department stores, but... It's silly to go to a department store and pay $20+ for a poorly made cuff that isn't to your taste. It's even more ridiculous to pay $50+ for a higher quality one. Any self-respecting DIY addict wouldn't stand for it. I went to my old pal the internet and queried for cuff bracelet blanks and/or tutorials. Most of the tutorials showed you how to make a fabric cuffs that weren't polished and would disintegrate. I'm sorry, but when I decide to put a lot of work into something, especially when it involves hand-stitching, I'd like it to be worth my while. More wear, less tear and preferably something that can be weaponized. A girl's got to have her priorities straight.
I kept searching. What I wanted was aluminum (It's lightweight AND flexible) cuff blanks that I could cover with fabric, rhinestones or whatever else I wanted. I found nothing. At one point, I nearly lost hope. The only aluminum bracelets that anyone had available were the finished, stamped and highly-polished ones and, of course, raw sheet metal, but I don't have metal working tools more sophisticated than a pair of pliers! What could I do with sheet metal?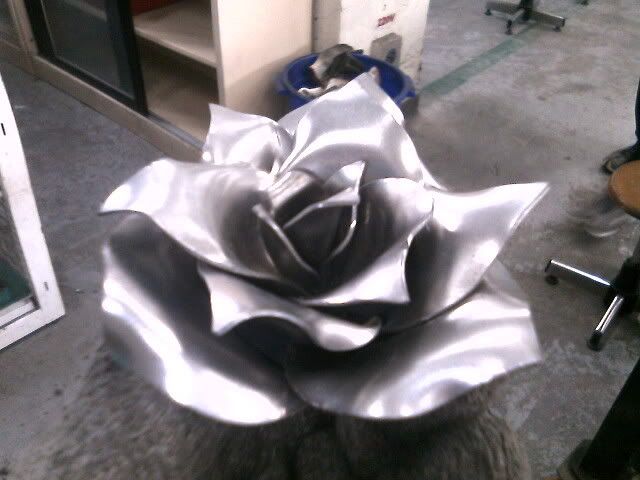 With proper tools and training, I could do this.
But to do that, I'd need all this...and a blowtorch.
Eventually, I stumbled on a little shop on Etsy that carried pre-cut, pre-bent, and virtually unmolested cuff blanks. What's more, they had several sizes, ranging from 1/2'' wide to 3 inches wide (That's HUGE!). My search had ended. All that was left to do was to acquire the cuffs and ask the shop owner if they knew about covering cuffs with fabric. Guess what!? ...They didn't. They'd only ever used the cuffs for stamping and other metal-working...things, things I can't do without the above toolkit..and training...and better safety goggles. Suddenly buying the cuffs wasn't such a great idea. I mean, there was a chance that I'd be stuck with product that was only good for a type of jewelry-crafting for which i was ill-equipped. Maybe I should give up, right?
Right. Just pretend your brain squirrels went into crazy spontaneous mode. What would THEY do? I bet they still didn't do what mine did. That's cause my squirrels are crazier than yours. I bought the blasted cuffs anyway, thanked the shop owner and began experimenting. You would not believe how many rhinestones, yards of fabric, and tubes of glue I went through before I got it right and I made beautiful little babies. I love my little darlings! I'll even show them to you tomorrow...BUT FIRST!
THE ETSY SHOP OF THE WEEK!
This week's feature is the little shop where my cuff blanks were found, Gotta Get A Deal. GGAD, features a wide range of raw aluinum products for making ornaments, dog-tags, bracelets and regular stamping supplies. They even have colorized aluminum and solid aluminum blocks. I've no clue where they get it, but I consider them a 'friend' because they are the only shop I've seen so far with this kind of product line. I recommend you visit their shop if you use the tutorial I will post tomorrow. You'll find the product selection very useful.